The School of Chemical Engineering and Environment (CEE) at the International University – Vietnam National University in Ho Chi Minh City is a newly established School since September 2022. Its mission is to meet the societal needs in the fields of chemical engineering and environmental engineering through teaching and research. CEE's educational philosophy is "job ready," meaning that graduates are equipped with the necessary skills to meet employment requirements without requiring additional training from companies.
To achieve this, CEE's leadership has planned to enhance research and improve academic and practical teaching effectiveness during the period from 2023 to 2028. The goal is to provide students with sufficient specialized knowledge and professional skills that align with the labor market demands of industries.
Currently, two crucial factors significantly affecting the quality of the workforce in society are the labor users (industries) and the specialized training institutions. Among them, industries act as labor users, while CEE plays the role of a specialized training institution. These two end units in the training and labor utilization process need to establish and develop a close relationship to address supply and demand issues.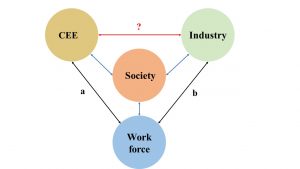 To implement the aforementioned strategy, CEE is advancing collaboration with industries to achieve the following objectives:
Enhancing practical skills for students through internships with companies.
Understanding the practical needs of industries in terms of skills and expertise through the following activities:

Organizing specialized seminars to provide students with information about job requirements in the labor market.
Acting as a liaison to facilitate direct interaction between students and industries, creating more job opportunities for students through networking and collaboration between the CEE and industries.

Undertaking research projects and technology transfer in the field of chemical engineering and environment to provide simulation models, treatment solutions, or consulting services based on industries needs and orders.
Collaborating with industries to access new techniques and technologies.
Partnering with industries in technology valuation, registration, buying, selling, and transferring related to copyrights and intellectual property assets. Recently, CEE has engaged in collaborations and is actively implementing partnerships with various organizations and industries to enhance the practicality of students' learning experiences.
In recent times, CEE has been actively promoting collaboration with organizations and industries to enhance the practicality of the academic program and meet the high-quality specialized workforce demands of industries.
One notable initiative is organizing extracurricular study visits for students to industries. Since the beginning of 2023, the School has arranged visits and internships for students to various partner companies and organizations, including Tetra-Pak in Binh Duong, Thu Duc Water Supply Joint Stock Company (TDW), Tram Chim RAMSAR National Park Floating Market in Can Tho, Thu Duc Water Pant III (SWIC), A Chau Environment Company, Suntory PepsiCo Vietnam Beverage, VICEM Ha Tien Cement Company, and more.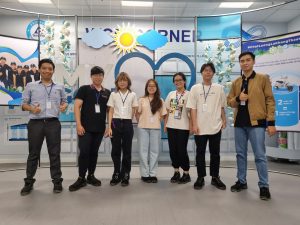 Manufacturing Plant tour at Tetra-Pak Binh Duong (20/5/2023)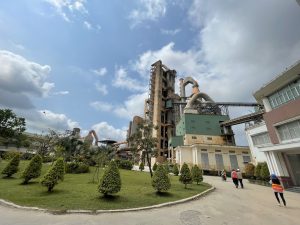 Manufacturing Plant tour at VICEM Ha Tien Cement Company (5/2/2021 and 24-26/3/2023)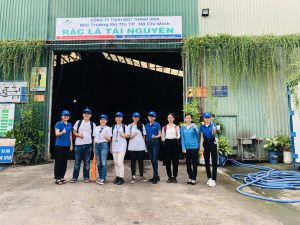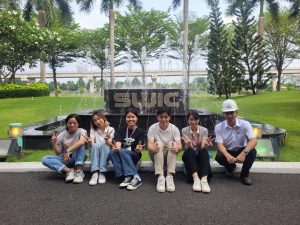 Manufacturing Plant tour at A Chau Environment Company (4/5/2022) and Thu Duc Water Pant III (SWIC) (19/4/2023)
In addition, CEE collaborates with organizations and industries such as RCE to contribute to raising environmental awareness through activities like collecting used batteries or paper cartons.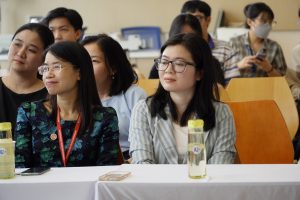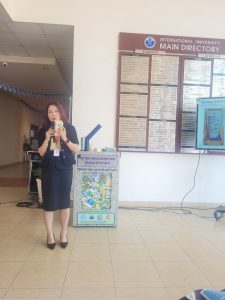 Collaboration with RCE, Tetra-Pak and Lagom company to collect used paper cartons (23/3/2023)
Collaboration with A Chau Environmental Company to collect used batteries (15-19/5/2023)
To gain a thorough understanding of the actual situation at manufacturing plants of both domestic and international industries, CEE actively participates in training activities, notably including a series of training sessions on R-EMC chemical management.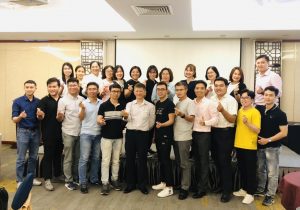 The training session on R-EMC chemical management was organized by Deutsche Gesellschaft für Internationale Zusammenarbeit (GIZ) GmbH in November 2022.
In addition, CEE also collaborates with the International University in inviting industries to participate in the Job Fair 2023 and, at the same time, seeking opportunities to connect with various industries at the Job Fair 2023, such as AB InBev, Ajinomoto, Asia-Shine, BAT, C.P. Livestock Corporation Vietnam, Friesland Campina, Perfetti Van Melle, Jabil, Nestlé, Rohto, Shiseido, SGS, Vedan, VTHealthcare, and more.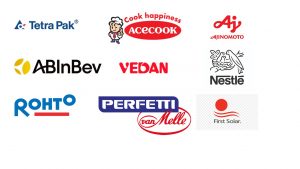 Furthermore, CEE is in progress of establishing relationships and implementing collaboration plans with several companies that have signed MOUs with the International University, such as Heineken, Abbott, Adidas, Beiersdorf, Castrol, Colgate, L'Oreal, and more.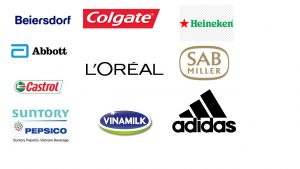 One of the important potential partners that has signed an official MOU with CEE is the Foreign Service Center (FSC). The collaboration aims to explore the global labor market and contribute to enhancing the competitiveness of the Vietnamese workforce in the global market.