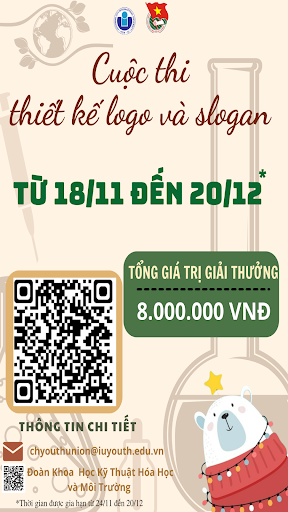 The School of Chemical and Environmental Engineering was officially born on September 14th, 2022. Due to the necessity of designing a logo and slogan representing our core values, we are happy to announce the design competition.
The total prize for the competition is 8,000,000 VND. The competition is open for everyone in Ho Chi Minh City, including International University – Vietnam National University, Ho Chi Minh City. The competition will end on December 30th, 2022. The prize will be announced and  awarded on January 1st and 3rd, 2023, respectively. Each participant will submit one entry at http://bit.ly/3tLELGG.
"After more than a month without a symbol and a slogan to represent our core values as well as to keep us moving forward in the right direction, the search for such a symbol became our top mission. We hope that by the end of 2022, we can finally accomplish our mission. We kindly ask you to help us in this adventure by participating in the competition and spreading the news. Your assistance is very much appreciated!" – Dean of the School of Chemical and Environmental Engineering.
For more information about the competition, please visit  https://www.facebook.com/chyouthunion.
If you have any questions, please email cee@hcmiu.edu.vn or chyouthunion@iuyouth.edu.vn.