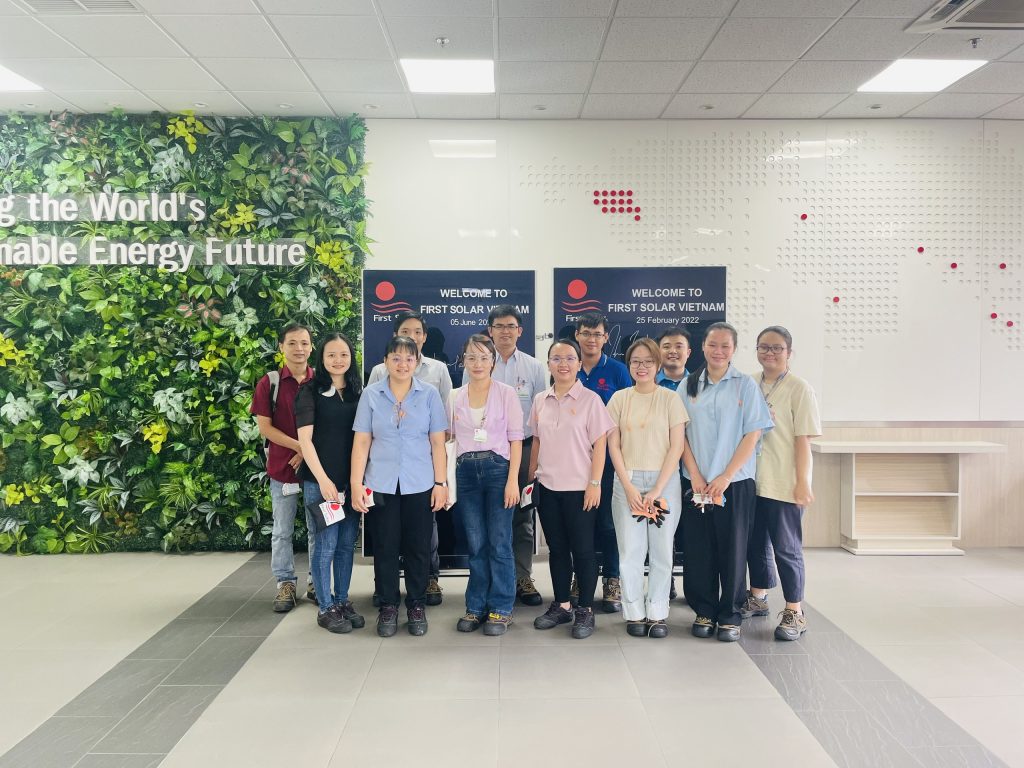 Date: May 3rd, 2023
In an informative, fun, and educational experience, the School of Chemical and Environmental Engineering (CEE) recently had the privilege of visiting the manufacturing plant of First Solar. The visit served as an opportunity for the CEE to gain firsthand knowledge of sustainable energy practices and express their sincere appreciation to First Solar Vietnam for their hospitality and collaboration.
During the visit, CEE students and faculty members were given a comprehensive tour of First Solar's manufacturing facilities, providing them with valuable insights into the company's innovative technologies and environmentally friendly practices. The tour showcased First Solar's commitment to sustainable energy solutions, particularly in the field of recycling and wastewater management.
Expressing their gratitude, the CEE extended their heartfelt appreciation to First Solar Vietnam and the aforementioned individuals for their warm reception and the opportunity to witness their state-of-the-art manufacturing processes. The CEE acknowledged the significant role played by First Solar in promoting clean and renewable energy, highlighting the company's dedication to environmental preservation and sustainability.
Furthermore, the CEE conveyed their hope for continued growth and collaboration between their esteemed institution and First Solar. They emphasized the desire to expand their relationship, fostering a closer bond and creating opportunities for mutual development and shared success.
With the visit to First Solar's manufacturing plant marking a memorable and enlightening experience for the School of Chemical and Environmental Engineering, they expressed their gratitude once again to First Solar Vietnam. The CEE eagerly anticipates further collaborations and endeavors, forging a lasting partnership that will continue to benefit both institutions and contribute to the advancement of sustainable technologies and practices in the years to come.