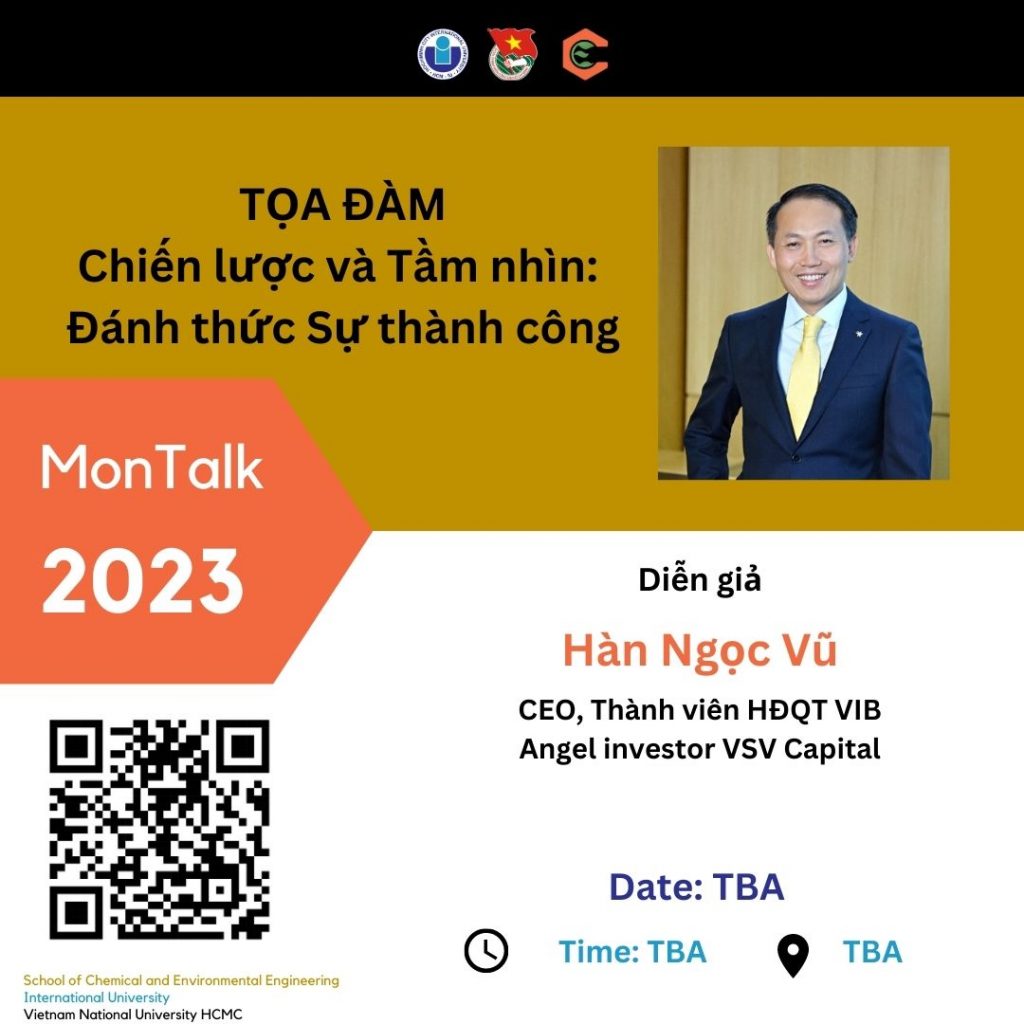 FOR IMMEDIATE RELEASE
"Strategy and Vision: Awakening Success" MonTalk Special Edition Featuring Guest Speaker Han Ngoc Vu
[HoChiMinh City, June 12th 2023] – The School of Chemical and Environmental Engineering (CEE) is thrilled to announce the upcoming MonTalk Special Edition event titled "Strategy and Vision: Awakening Success." This highly anticipated event will take place on June 12th, 2023, from 2:00 PM to 3:30 PM.
We are honored to have renowned guest speaker Han Ngoc Vu join us for this insightful gathering. With extensive expertise in strategic planning and visionary thinking, as CEO and Member of Board of Directors at Vietnam National Bank (VIB) and angel investor at VSV Capital, Han Ngoc Vu is a respected authority in the field. Attendees will have the unique opportunity to gain valuable insights and learn from his wealth of experience.
"Strategy and Vision: Awakening Success" aims to equip participants with the knowledge and tools necessary to make informed decisions and achieve remarkable outcomes. The event will feature engaging discussions on strategic approaches, visionary thinking, and their direct impact on achieving success in various domains.
Date: [To-be-announced] Time: [To-be-announced] Location: [To-be-announced]
This event is open to students, faculty members, industry professionals, and anyone interested in enhancing their understanding of strategic planning and visionary thinking. Attendees can expect an interactive session filled with thought-provoking ideas, real-world examples, and practical strategies.
We encourage all interested individuals to mark their calendars for this exceptional event. Further details, including registration information, will be shared in the coming weeks. Stay tuned for updates on our website and social media channels.
###
For inquiries or further information, please contact:
The School of Chemical and Environmental Engineering (CEE)
cee@hcmiu.edu.vn or dhlinh@hcmiu.edu.vn
Office: A2-513, A1-712 Thu Duc Campus, Ward 6, District Linh Trung, Thu Duc – Ho Chi Minh City
Phone Number: (028) 37244270 – 3871